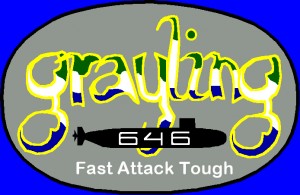 It was 20 years ago today that I thought my life was at an end. I was a lowly ET2 while serving in the Navy on board the USS Grayling (SSN-646). I had just been relieved of watch and eating breakfast when at around 05:46 the ship collided with another submarine. Both ships made it back to home port. I can't disclose anything else about the incident, sorry.
My old shipmate, and fellow off going watch stander Don "Hammer" Hammack wrote a little post about the momentous day. Just follow the link:
http://donhammack.com/?p=942
Here are some links if you are interested:
http://en.wikipedia.org/wiki/USS_Grayling_(SSN-646)
http://www.mesotheliomaweb.org/mesothelioma/veterans/submarines/uss-grayling
http://www.jag.navy.mil/library/investigations/uss%20grayling%2020%20mar%2093.pdf
Update:
The horrendous Girls Scout cookie season is FINALLY coming to an end. I will finally have time and energy to finish some books. With my wife being a GS leader and my daughter a Daisy, I had very little time to do anything for myself. I was usually too pooped to think most days.I am almost done with The Last Threshold, so be on the lookout for the review.
Thank you in advance for your patience.